Learn about the fundamental principles of accessibility and how to apply them to eLearning. This course covers all the essential concepts and uses a practical framework to show you how to implement eLearning accessibility using a wide range of authoring tools and approaches.
---
Key features
Who is it for?
This course is suitable for anyone involved in any part of the creation, design, development or testing of eLearning content.
---
What will I learn?
This course is your first step in conforming to best-practice eLearning accessibility standards and complying with legal requirements. It covers the essential Web Content Accessibility Guidelines (WCAG) 2.1 A and AA standards and also includes best practice AAA recommendations designed to improve the learner experience for everyone.
Contents:
Accommodating different types of disabilities and impairments
Assistive technology fundamentals
Accessibility statements
Tool settings
Accessible structure and navigation
Colour contrast
Designing for assistive technology
Formatting fundamentals
Plain English

The follow-on course eLearning accessibility further steps allows you to explore these accessibility principles in further depth and covers more of the essential WCAG standards needed for better accessibility and legal compliance.
---
What are the benefits for the eLearning professional?
Develop your knowledge and skills to take the first steps in becoming a confident eLearning accessibility practitioner
Be confident that you are creating learning content that does not create barriers or disable the potential of any of your learners
Enhance your employability as the need for eLearning accessibility continues to grow
Become a better advocate for accessible eLearning
---
What are the benefits for the organisation?
Ensure the estimated 12% to 26% of your learners who have disabilities or impairments are not excluded
Improve the learning experience for everyone including people who have temporary or situational impairments
Serve the rapidly growing ageing population
Avoid the legal risk from a lack of accessibility
Validate your diversity, equity and inclusion credentials to your employees and customers
Expand your market reach
---
How long is the course?
The course lasts for 3.5 hours. It starts at 9.30am BST and finishes at 1pm with a short break mid-way through.
---
How much does it cost?
eLearning accessibility fundamentals = £250 + VAT
Complete eLearning accessibility = £450 + VAT
(Includes both eLearning accessibility fundamentals and eLearning accessibility further steps.)
---
Training dates
Our eLearning accessibility fundamentals course is run on demand as soon as we have a suitable number of delegates. Please register your interest below and we will be in contact as soon as any dates become available.
---
How can I book?
(Save 10% by buying eLearning accessibility fundamentals and eLearning accessibility further steps together.)

---
Further information
How many people will be on the course?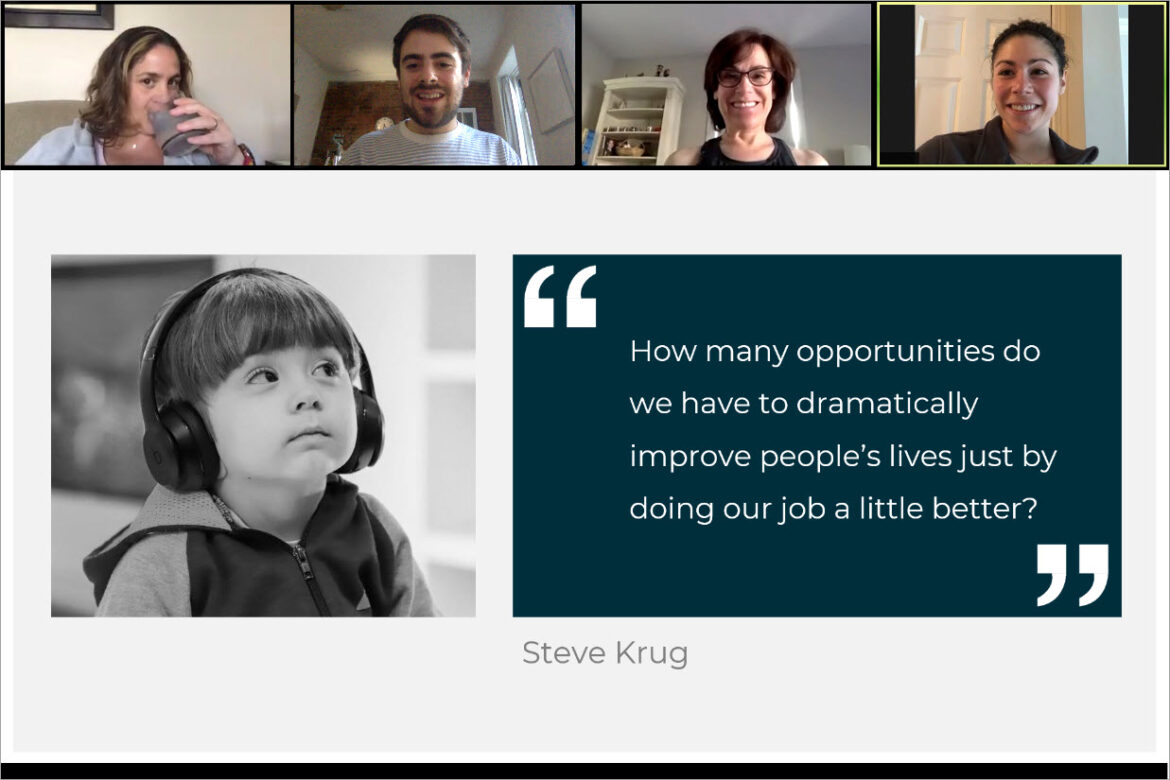 We run our eLearning accessibility courses with a minimum of 5 delegates and a maximum of 10. For large groups we deliver with a trainer and a producer to ensure the course runs smoothly.
---
Is the course accessible?
We aim to make our courses as accessible as possible. Captions are provided and a variety of communication options are offered during training sessions to accommodate different access needs. We also ask delegates for information about any specific access needs prior to the course and work with them to accommodate these.
---
Do you supply course notes?
The course is accompanied by fully accessible course notes with links to further resources. These are a useful learning tool and are sent out in advance of the course.
---
What level of experience do I need?
This course is an entry level introduction so no prior knowledge or experience of accessibility is needed
Some experience of creating eLearning content using an authoring tool is useful but not essential
Basic familiarity with video conferencing software such as Zoom is recommended
---
Any other questions?
Contact us if you have any other questions or if you would like us to deliver this course for your team or organisation.
* * * * *
"This was a fabulous session and hugely helpful. It should be mandatory for all our eLearning staff."
Delegate feedback